Tuesday, August 18, 2009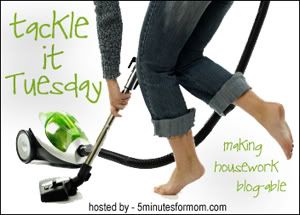 I'm going to lame out on this week's Tackle It Tuesday since I'm so sore that I can't move.

Too much Wii Fit.

But I'm seeing improvement already, so it's worth it.

For this week's tackle, I'm going to clip my coupons.




Usually my coupon inserts sit stacked up until I'm ready to go grocery shopping; then in a flurry, I cut them out and dart out the door.

I've already done my grocery shopping for this month, but I'll go ahead and tackle this batch so that I don't have so many to do later.




Now I just need to file 'em - which could be a whole other Tackle It Tuesday project!