Wednesday, March 18, 2009
This week I decided to combine both Wordless Wednesday and Wordful Wednesday because this photo was just too special not to tell about!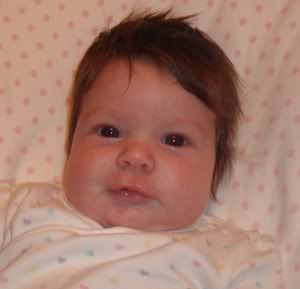 Since my daughter was born in January 2009, she has blessed me daily with quick, heartfelt smiles. And daily I have tried to capture them on camera. But as quickly as they appeared, they disappeared.

Until this past Monday when I caught one just before it disappeared.

I've been a mom for 17 years. Until January, I was a mom to only boys - three of them. And while I cherished their every smile, there is just something about seeing your daughter's face light up.

Maybe it's because I never expected to have a daughter. Maybe it's because a void has been filled. Maybe it's because she was a miracle baby.

Maybe it's simply because....she's my daughter.